Initial Inspection
Follow these steps when inspecting a unit if an issue should arise:

Inspect the entire unit for damage with attention to:

The connector
The focus-knob

Make sure it rotates almost 360 degrees and stops

Where the top housing joins the bottom housing:

Look for damage marks when examining the unit

If no damage is present, start the troubleshooting process.
Clicking Noise
There may be a clicking noise present when operating the device, this is NORMAL. The clicking is a shutter actuating inside the unit and is used for 'correcting' the image. The clicking frequency decreases the longer the unit is on.
No Communication with Phone
Check Device Connector

Android Connector: Inspect the connector for damage. Look inside and verify that all the pins are present and undamaged.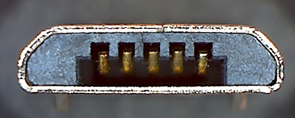 Android Connector – Pins
Apple Connector: Verify that the pin contacts aren't scuffed or damaged.

Apple connectors can become dirty, clean with IPA or Acetone and try to reconnect.
Inspect connector for external damage (i.e. bent housing).

Lightning Connector – Dirty
Check Phone Connector

Inspect the inside of the phones connector and ensure no debris or damage is preventing connection.

Reset Phone

Manually close the Seek Thermal App and restart the phone. After restart, attempt communication again.

If possible, attempt communication with two different phones.
Image Quality Issues
A small amount of image artifacts are allowed in the image. If excessive pixilation or flashing rows/columns are present, the unit should be considered a failure (see below).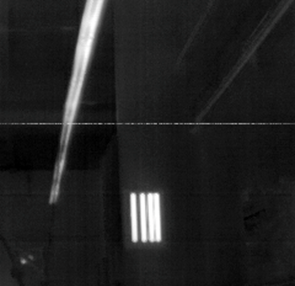 Grey Image / No Image

If the image looks pixelated and the shutter isn't making a clicking noise, it's likely that the shutter is no longer actuating.

Image Quality Evaluation

Do not judge the image quality by looking at a low contrast scene (i.e. covering the unit up with your hand or looking at a wall/desk). To effectively screen out image quality issues, look at a high contrast scene (i.e. a hot cup of coffee or your hand, in front of a cold background).
Focus Check
Focus Check

Verify that you can focus on an object that is ~20' away.

Focus Knob

If the focus knob doesn't reach a stopping point, the lock pin underneath the knob has been broken.
The focus knob can present a small amount of a clicking/notching feel when rotated.

Unable to Achieve Focus

If no amount of focusing can be made to achieve a good focus, inspect the lens and see if it appears to be recessed into the device.